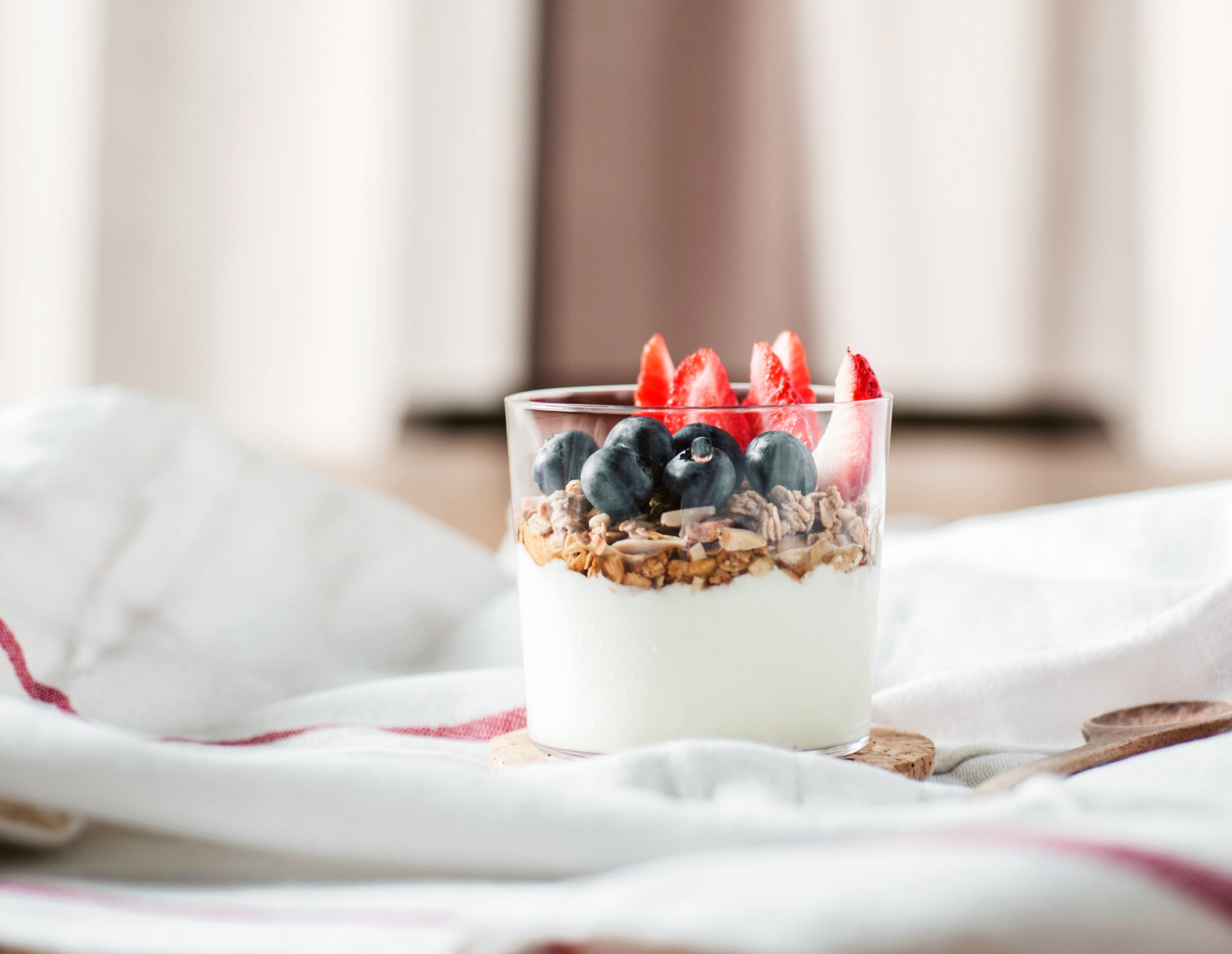 2 Easy, Fun, and Fruity Recipes for Kids to Make
Are you looking for ways to involve your kids in the kitchen? We've got some fun recipes for kids to make that even toddlers can try! 
The first time you make these recipes, you can demonstrate and work alongside your child. Then, as they grow in confidence, you can even write out the recipe on an index card and let them try making it alone. 


Tips for Cooking with Kids:
Before getting started, here are a few tips to make the most of cooking with your little one:
Use a kitchen helper tower so your child can easily (and safely!) reach the countertops.
Get a wooden knife that's safe for children to use. Also, use these tips to teach your child to use a knife in just 3 easy steps!
Involve your child in the kitchen as much as possible so that they grow more and more confident in their cooking skills.
Encourage your child's efforts with phrases such as, "You did it!" or "I see how hard you're working!"
Make it fun! Turn on some music while cooking if you'd like.   
Teach your child basic clean-up as you cook. Show your child how to use a kitchen cloth, dustpan, and broom. Also, make sure these items are easy for your child to reach on a low shelf.
Provide some dishes and utensils that your child can use in a low cabinet or drawer. That way, it will be easier for them to access these items while cooking.
Recipes for Kids to Make: 2 Fun, Fruity Recipes
Are you ready to get cooking? Here are a few easy recipes for kids to make. 


Fruit Parfait

This fun recipe is easy, fun, and delicious! Children make use of their fine motor skills when spooning and chopping. 
Ingredients:
Yogurt
Granola
Berries: strawberries, blueberries, and raspberries (you may substitute with other fruits if necessary)
Short, fat, transparent glasses
Instructions:
Prepare the berries. Chop the strawberries into small pieces. 
Spoon a layer of yogurt (about 1 inch) into the glass. Add berries on top. Then, add a layer of granola. Repeat the layers. 
Enjoy the beautiful and tasty treat!
Enjoy!


Fresh Fruit Fondue
This scrumptious fruity recipe is fun to make and even more fun to eat! In this recipe, children can help wash and prepare the fruit, chop the fruit, stir the yogurt, and eat.
Ingredients: 
1 banana
1 quart of strawberries
Blueberries
1 cup plain yogurt
1 tablespoon of honey
Toothpicks or kabob sticks
Instructions: 
Wash the strawberries and blueberries.
Show your child how to carefully cut off the strawberry tops and place them in a bowl.
Invite your child to peel the banana and cut it into large chunks and put them in a bowl.
Put the blueberries in the bowl.
Add about 1 tablespoon of honey (or to taste) into the yogurt. Invite your child to stir it in. (Optional: Divide the yogurt into small bowls for each person being served. Also, add a half teaspoon of vanilla to the yogurt if desired.)
Invite your child to use a toothpick or kabob stick to spear a piece of fruit and dip it into the yogurt before eating it. 
We hope you enjoy these fun, easy recipes for kids to make! 
Do you have another favorite recipe your child can make easily? Share it with us below! We'd love to hear from you.