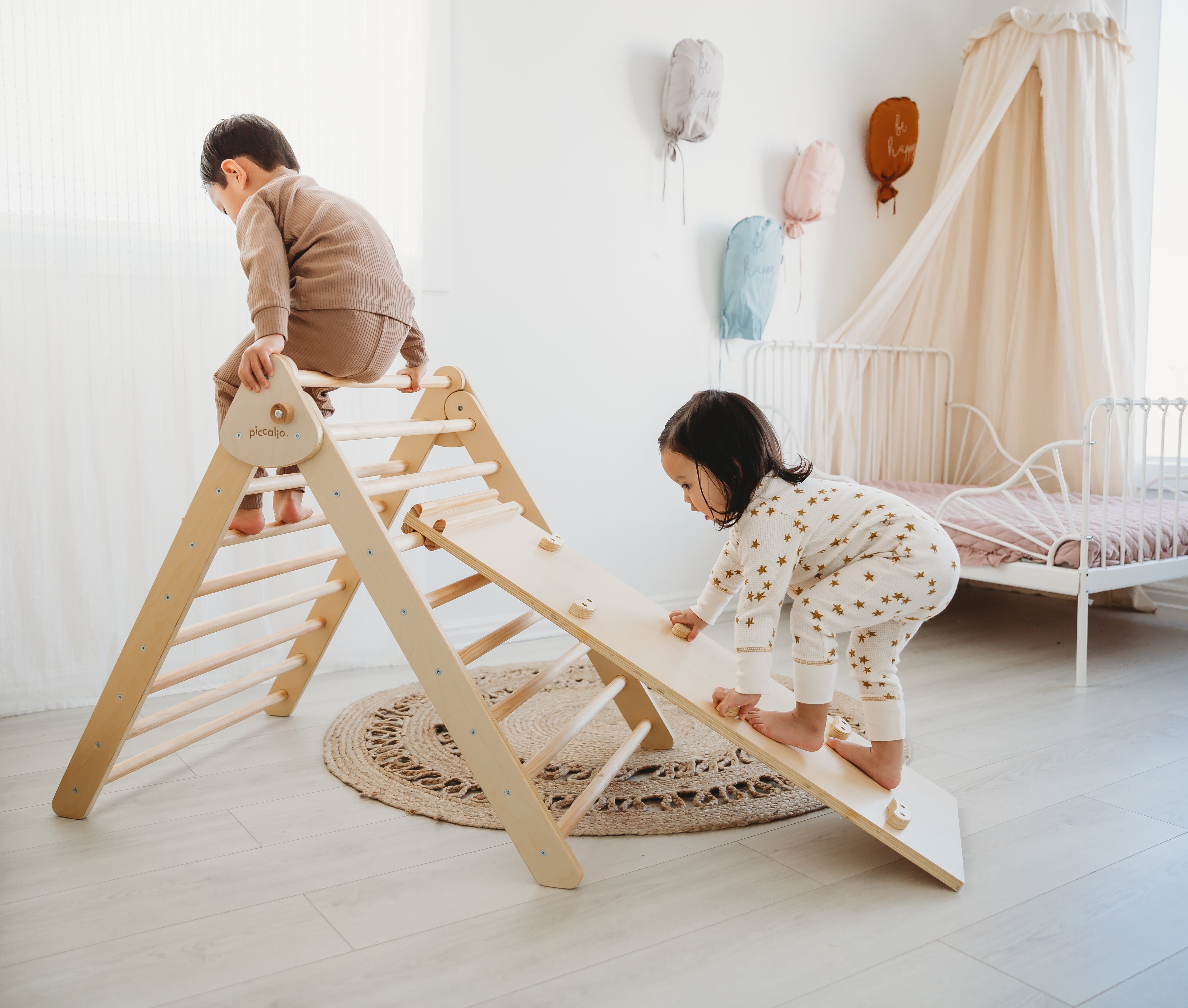 What Is a Pikler Triangle? The Ultimate Wooden Toy for Gross Motor Skills
A 9-month-old toddles along the sofa, trying to grab the soft cushions to hold her steady. However, the cushions are tricky to hold on to. The baby could much more easily grasp the rungs of a Pikler triangle. This wooden toy boosts gross motor skills. The best Pikler Triangle is a companion that encourages exercise and pretend play well into childhood.
Infants and toddlers are naturally driven to build their gross motor skills. Their need to become independent leads them to pull themselves up to a standing position. Then, they crawl onto and over low objects and teeter along furniture. This is all well before they have the balance needed to stand unsupported. 
These activities help them build strength and control over muscles and movement. A Pikler triangle set is a wooden toy that helps children through this stage of gross motor development and beyond.
In this post, learn the answer to "What is a Pikler Triangle?", whether or not this toy is safe, and how it can benefit your child. 
What Is a Pikler Triangle?
The Pikler triangle or Pikler climber was created by Hungarian pediatrician Dr. Emmi Pikler. She designed the climbing structure to support independent gross motor development.
A triangle in shape, the climbing arch features a series of rungs that children can grasp or climb. With a wide base and low rungs, young children who are in the early stages of crawling and standing can gain stability. First, they learn to grasp the lowest rung and eventually pull themselves to a standing position. 
The Pikler triangle is a great toy for babies. Climbing triangles help babies develop gross motor skills independently. They use their own impulses to strengthen their core and build their muscles. As they do, babies and toddlers develop an understanding of how their bodies move and what they can and cannot yet do.
The best Pikler triangle sets also come with an exciting rock wall or slide. This way, as babies grow into toddlers, they can work on more advanced motor skills such as climbing.
Is the Pikler Triangle Safe?
The Pikler triangle supports independent gross motor development safely. The wide base and sturdy structure mean kids climbing can't tip it over. Plus, our Pikler triangle set is completely non-toxic and meets strict safety regulations. The high quality wood is well-sanded, soft, and won't splinter. 
Giving babies the opportunity to independently build body awareness, strength, and coordination boosts the child's development. A Montessori climber offers them skills that will help them know what is safe and what is too risky as they become more mobile. They learn about the limits of their bodies. While using the Pikler triangle, the consequences of falling are small and virtually harmless.
Parents should supervise their children to achieve the best Pikler triangle safety. However, keep in mind that intervening too much makes climbing walls and structures riskier. Your 'help' prevents them from learning the limits of their own body and can create expectations that you'll 'save' them if they slip. They are more likely to take greater risks than if they have had the opportunity to learn their own limits.
When creating a space for indoor motor skill development, you can increase the safety of the Pikler triangle by placing it on a soft surface. A carpeted floor or a play mat are great options. Also, be sure to leave ample clear space around and underneath the climber. Be present while your child is climbing and allow them to explore the Pikler Triangle independently. Think supervised, but independent play.
Introducing a Pikler Triangle
The best time to introduce the Pikler triangle is when your child is eager to practice pulling up. Your baby might be crawling on furniture and throughout the house.
The Pikler Triangle was built with this stage of development in mind. The best Pikler triangle is a safer alternative for climbing activities than the couch, chairs, shelves, countertops, and other household furniture.
The Pikler triangle is also great fun for older children, up to about age 6. They can also use the Pikler climber for imaginative play. For example, place a blanket over it to turn it into a tent, or pretend it's a mountain to climb.  
You can place your Pikler triangle set in the playroom, your child's nursery, or the living room. Our Pikler triangle conveniently folds up for easy storage when not in use. 
How To Support Independent Gross Motor Development with the Pikler Triangle
Allow your child to initiate the movement as they learn about the way their body moves and the consequences of certain movements. When they move independently they will do only as much as they are capable of. As their skills and coordination improve they can climb higher. Your presence should be observant and reassuring, but should never push them to do more than they are comfortable with.
Babies are born small and helpless, seemingly lacking any control over their own bodies. Yet, they are also born with innate abilities that help them transform from helpless newborns to walking and talking toddlers. 
When babies are allowed to develop their gross motor skills independently - without adults propping them in sitting or standing positions - they learn the capabilities and limits of their body. 
Parents can support and encourage their baby's independent gross motor development by providing an environment that is inviting and enriching. Offer opportunities for them to reach for interesting objects, pull themselves toward a desired toy, and learn what their body can do without adult intervention.
For parents eager to support and encourage child-led learning and development, the Pikler triangle is a perfect addition. An environment free of clutter but rich in opportunities for exploration sparks curiosity and encourages movement. 
Overall, encouraging exercise can be done by taking regular walks, purchasing toys and games that promote movement, and spending time outdoors. Children are naturally eager to move around, so all you have to do is provide the space to make it happen! Adding a Pikler triangle to your home is also a great move that will encourage even more active play.
How will you use your Pikler triangle? Get in touch with us on social media to let us know!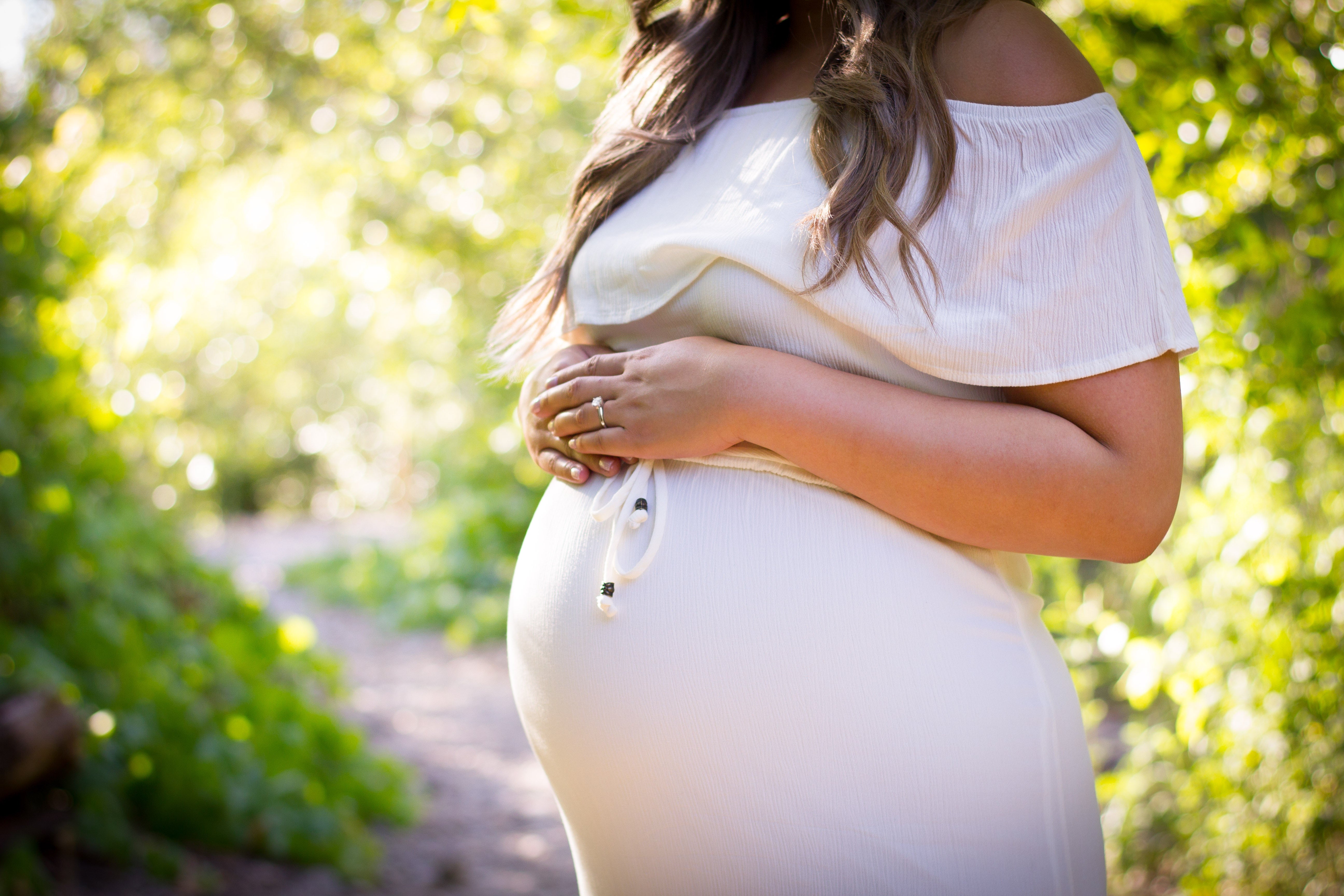 The Top 7 Best Prenatal Vitamins
Finding out you're pregnant is an emotional event. It can feel exciting and overwhelming all at once. Suddenly, your body is growing a beautiful new human being! Picking out the best prenatal vitam...